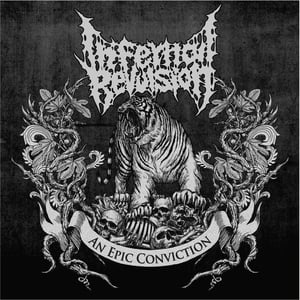 ¥

2,100 - On Sale
AN EPIC CONVICTION CD including all the tracks from 1st full length [Devastate Under Hallucination], 2nd full length [Dead But Breathing] and new song [Blemished].
Released June 2011.
[An epic conviction]
Alliance trax
1. Blemished
2.Prologue-Hymn of destruction-
3. Dead but breathing
4. Buried salvation
5. End is nigh
6. Contemptuous corruption
7. Rot in peace
8. Contrami(Nation)
9. Lord conspiracy
10.Leviathan
11. Deep down human being
12. Killing cycle
13. Chain of blunder
14. Trapped in concrete, seek insanity
15. Lock to rot
16. Seventh curse
17. Endangered human species
*OVERSEA CUSTOMERS*
PAYPAL PAYMENT FOR ONLY DOMESTIC CUSTOMERS!!
FOR OVERSEA CUSTOMERS, PLEASE CONTACT US FOR INTERNATIONAL SHIPPING QUOTES.